Welcome to Con

gusto

Café and Ice Cream Shop
Congusto is a popular cafeteria just off Bugibba Square.
We are a family run business and we want to offer to our clients and friends all the goodness of  Sicilian products, the island where we come from.
Birgit, the owner, after travelling all around Europe has made Malta her new home and now is happy to welcome tourists and locals with her lovely cappuccinos and her sweet smile!
Congusto Breakfast
At Congusto you can delight your morning with the typical Italian breakfast, cappuccino or a frothy latte and croissants.
We actually offer a variety of different croissants and pastries with custard cream, chocolate, wholemeal with honey, lemon custard cream and jam.
Amazing cassata, cannoli and babà, have you ever tried them?
For the lovers of a savoury breakfast we offer tasty arancinos, pizzas and filled panzerotti with sausage or vegetables.
You can also have a fresh smoothie or a lovely tea and a gorgeus slice of cake (also gluten free)!
Congusto Lunch & Dinner
You can stop at Congusto for a quick espresso or to enjoy yourself with our freshly baked lasagna or pasta dishes.
If you would like something lighter why don't you try our tasty italian platters or our delicious savoury crepes!
Congusto Ice Cream
Congusto boosts one of the best Italian Ice Cream in Malta made with only natural ingredients. Wide choice of different flavours, from classical to gourmet.
You must try our homemade waffles and crepes guarnished with your favourite Ice Cream!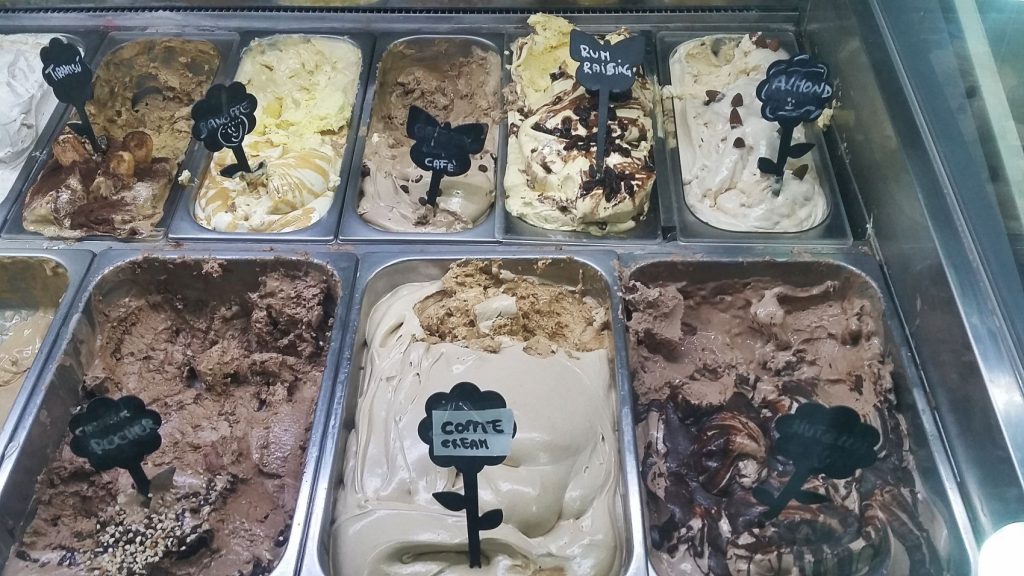 Congusto Aperitive and Special Evenings
You can also enjoy Con Gusto for an aperitif with friends with an Italian twist or come along during your favourite football games!
Congusto wants to take you alon a gastronomic tour of Italy proposing you special gourmet evening and Italian local products as wines, jams, pasta souces and much more!
Come along we are open everyday from 7.15am to 11pm and in Summer time till early morning.
For more information, please
Contact Us
CONGUSTO
triq sant' Antnin, Bugibba

Tel: 99351266
FACEBOOK PAGE