Matteo, the Italian Barber, started cutting hair when he was nine years old at his uncle's barber shop. It was an old barber shop where he could learn all the tips and the secrets of this profession by the old school, the kind of secrets that can be passed only by generations and are part of the real italian tradition of being a barber.
"When I was eleven I used to practise with my friends, cutting their hair at school and then I ended up cutting the teachers and also the Head of the School's hair. My first payment was when I did the first cut at my uncle's shop, it was only 6 mila lire (about 3 euros)", said Matteo.
This is the picture of his first payment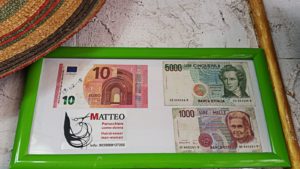 "My job is not only a simple profession, for me it is all my life, my passion. I don't go to work if I don't feel that love that brings out my creativity and I don't finish a work if I don't believe that it is perfect". Explained Matteo, showing me his special barbers tattoos on his arms.
Actually his motto says how much passion this Italian Style Barber has in his veins: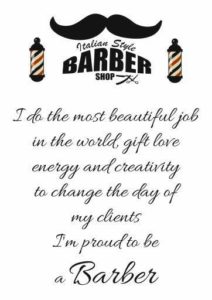 Matteo provides not only cut, dress, groom, style and shave men's and boys' hair, but also artistic cuts. When he has a head under his hands he knows what to do and he does it  exceptionally well, using professional equipment including a special non electrical razor that his uncle gave him when he was a boy!
To experience a real Italian Style Barber experience in Bugibba,
 Contact Matteo:
Triq il Gandoffli, 93 – Bugibba


Tel: 00356 99137205
Facebook Page
You can have also the occasion to meet the beautiful Ninetta… see the picture in the gallery.