Welcome to Mangia e Ridi Trattoria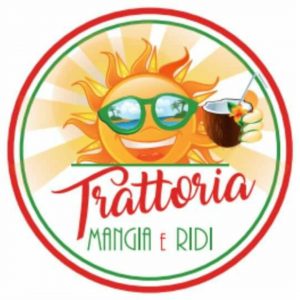 This lovely Trattoria and Pizzeria is located just off the main Mosta Road in St Paul's Bay and it is home of Francesco and Liana, an Italo-Maltese family with the passion for food!
What a food! At Mangia e Ridi we are talking about the best of local produce combined with the traditional Sardinian cuisine, in short Mediterranean Food Experience!
Not only the food is amazing at Mangia e Ridi you are welcomed by a friendly athmosphere were you can relax with your family and have a good time with your friends.
Francesco and Liana make their restaurant a place where eating tastes of happiness, that's why the name Mangia (eat) e Ridi (and laugh).
A Platter for starter?
Everyting starts with a starter and at Mangia e Ridi we want to delight you with one of our platters, where the cheese, cut meats, or fish will tell you about the flavours of a particular Italian Region and its culinary traditions.
Mangia and Ridi: it's Pasta time!
We would love to tell you the story of our homemade lasagna, cooked in the traditional Italian way, but words are not enough, you have to come and taste it for yourself.
Or maybe you prefere to try the "linguine allo scoglio" (linguine pasta with mussels, king prawns and clams), one of our speciality which is very popular among locals, even from the South of Malta people come to enjoy it.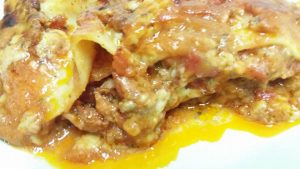 Fresh Fish is definitely a must!
Francesco personally selects the high quality fish every day: mussels, prawns, salmon, sea bream, sea bass and when in season the typical Lampuki will be part of your truly enjoyable fish dish.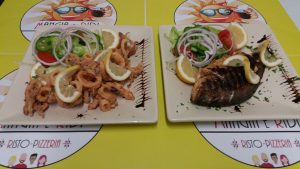 Our Meat Specialities
We want our customers to sit and forget about the world aroud, let them enjoy only the present moment enriched by a glorius main course: grilled chops of local fresh pork, home made sausages, grilled chicken or ryb-eye of fresh Angus Beef.
How about our famous burgers? 220 grams os succulent meat grilled and searve in toasted sesame bun with lettuce, cheese, onions and chips. Have you ever tried the Mangia e Ridi Burger? With ceddar cheese, fried egg and grilled back bacon it is served with chips and battered onion ring tower… somenthing to die for!
Francesco is also specialized in the typical and traditional Sardinina roasted pork and for a group of ten people he will prepare for you a great menu.
Who said pizza?
Yes we have it, and we make it with love! From "Margherita" to "Capricciosa", with mushrooms, or tuna, with pepperoni sausage or seafood and also "Pizza Mangia e Ridi".
Do you want to know more about Mangia e Ridi Pizza? Come along, there is a place for you tonight!
Mangia and Ridi, would you like a glass of wine?
In Italy we finish our meal with a shot of herbal liquor, at Mangia and Ridi you will find a selection of Sardinian ones like the typical "Mirto" as well as Sardinian, Sicilian and Maltese quality wines.
Mangia e Ridi, for your Special Occasion
Francesco and his wife are more than happy to organize the party for your special occasion!
Baptisms, Holy Communions, anniversaries or birthdays… Let Mangia and Ridi surprise your guests with fabulous food from the starters to the cake!
Mangia and Ridi Catering
How about having the quality of Mangia and Ridi dishes at your work place? Francesco can prepare a good lunch and deliver it at your company.
For any occasion: breakfast meeting, lunch times and even for parties and ceremonies you will find Mangia e Ridi at your side!
For more information or to book a table, please
Contact Us
Triq il-Kahli, Saint Paul's Bay
Reservations 99742543
Facebook Page