Welcome to Marco Tanti Gelateria
Marco Tanti Gelateria is a family run business where the passion for ice cream has been handed down through three generations.
The Art of Gelato
It was Marco's Great Grandfather who started making delicious cakes and ice cream for local parties and his "il Gelat tan-Nanna" (a traditional slice ice cream) was super popular at the weddings receptions and it is still requested nowadays.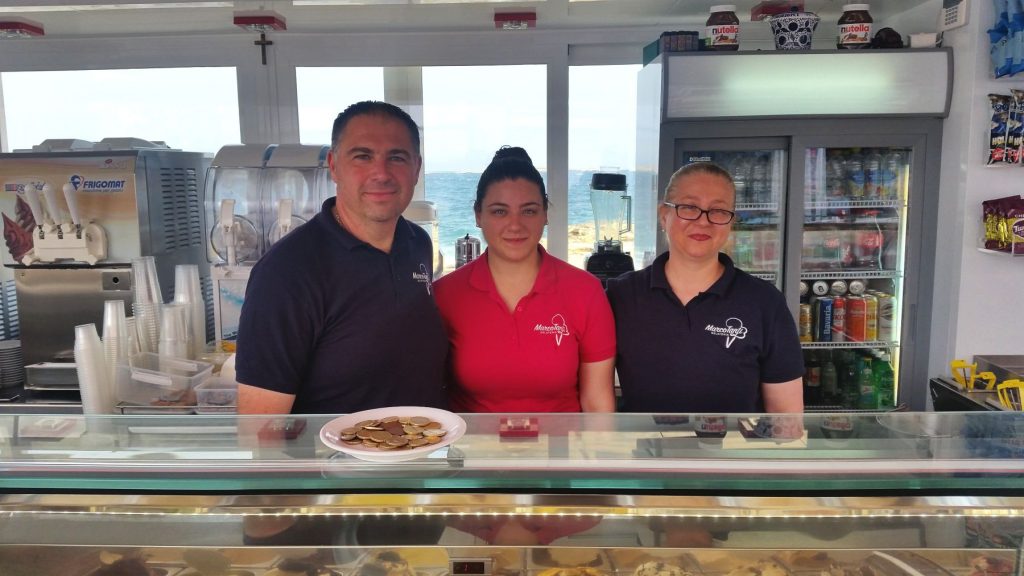 While Marco masters all the ice cream recipies, you will find Angela, his wife and Rachel, his daughter serving delicious cones and fruits salad with a lovely smile… Kindness is the main ingredient of the Tanti's Family and it's not surprising if after 29 years in Ice Cream they are considered the sweetest family in Bugibba!
A Total New Look 
Located on Islet Promenade by the jetty, Marco Tanti Gelateria was a point of reference for a sweet refreshment for all the Bugibba community for years. If you are going for a boat trip or for a walk along the promende, a stop at Marco Tanti is a must!
The community was so enthusiastic to see the big renovation of the Tanti Kiosk which has amazingly improved the bay and gave a total new look to the kiosk with two wide balconies, where you can relax and enjoy a delicious ice cream while the sun sets over the Roman salts pans.
A Flavour for Every Taste
Marco Tanti offers a wide selection of quality Italian ice creams, soft ice creams, toppings, fruits salads, milk shakes and smoothies. They also have ice cream options for diabetics, soya, gluten free and fat free.
Now Marco Tanti is also Cafeteria as you can enjoy a lovely coffee, latte (with soya milk too) or tea and in the hottest hours of the Summer a fresh orange juice or a cold drink! 

A Slice of Cake makes me Happy
A slice of cake makes everyone happy and at Marco Tanti you can choose from a wide range of cakes, muffins and croissants, to start the morning with something sweet or for a tea time with your friends.
Marco Tanti also offers toasties and snacks for savoury palates. 
Enjoy your stay in St Paul's Bay and come along to Marco Tanti Gelateria for a great Ice Cream with a lovely family!
Contact Us
Marco Tanti Gelateria


A1, Islet Promenade




Bugibba, St Paul's Bay, SPB 2502




Tel. (+356) 21581217 – Mob. 99802868


Email: [email protected]


FACEBOOK PAGE


Opening Hours


Daily from 8 am till late