Welcome to the most comprehensive online business directory for the Bugibba and St Paul's Bay locality of Malta!
Every business and all the local services are included here, offering the easiest way for local residents,
visitors and holidaymakers to find exactly what they're looking for.
Search for a

product

or

service

here:
Start your
< search here >
Bugibba-malta.com is the most popular, privately owned online business directory for Bugibba, Qawra and St. Paul's area of Malta.
We aim to list every business in the Bugibba, Qawra and St Paul's Bay area in the correct category,
offering you the most comprehensive local choice available anywhere…
From restaurants to electricians, souvenir shops to grocery stores,
estate agents to hardware stores and any goods,
services and events in between.
Each category will show all the local business services in this area alphabetically,
so you'll be able to see who offers the solution closest to your location.
How much easier could it be for you to find what you're looking for?
MAKE THE MOST OF YOUR SHOPPING EXPERIENCE WITH THE




BUGIBBA CARD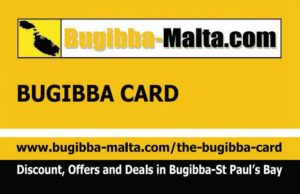 Click on the links below if you would like to DISCOVER MORE ABOUT…