Receive a 10% discount when booking
Sea Adventure Excursions online
To visit their website here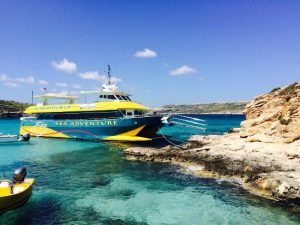 Sea Adventure Excursions are a family run company based in Bugibba Malta, with over 25 years experience in providing daily boat trips and charters.
Sea Adventure is an amazing state of the art catamaran with a
special glass bottom!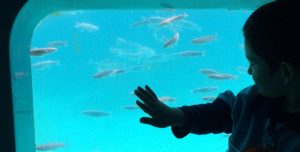 Take in the wonders of the underwater world, while dry and comfortable in your own seat.
Seated Sun deck, including loungers in both the shade and the sun.
Fast food counter.
Personal item lockers.
Snack bar.
Mask's and snorkels for hire.
Waterslides.
Spacious bathrooms – Ladies, gentlemens and disabled.
Plus lots more.
Choose your Sea Adventure Excursion Experience
They offer two main boat trips on their state of the art catamaran, both taking you on an unforgettable journies to experience some of Malta's most spectacular Islands.
Swimming in Comino
Anchoring in a secluded crystal lagoon you have the choice of cave swimming, snorkeling or cliff jumping. Afterwards you will spend the rest of the afternoon in the famous Blue Lagoon, where you can swim and snorkel from the boat or take a leisurely walk to further explore the Island.
Swimming in Comino and sightseeing in Gozo
Do you prefer exploring?  If so, then this  is for you.  Have a short swim in the Crystal and Blue Lagoons, before sailing on to Gozo.  The charm of Malta's sister Island is immediately apparent, as it's greener, more rural and smaller, with life's rhythms dictated by the seasons, fishing and agriculture.
Sea Adventure Excursions have also teamed up with operators in Gozo, to offer optional land tours to visit the island during your stop.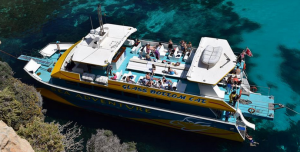 Optional speedboat ride
During your free time on Comino Island, they can offer an exciting optional speedboat ride. If you feel the need for speed, then this is the one for you!
Get 10% discount when booking online


Just visit their website here and your discount will be automatically included at the end before you pay!