Welcome to
BAD BULL BBQ HOUSE
Bugibba Square
Bad Bull BBQ House is a family run restaurant in the heart of Bugibba's main square overlooking St Paul's Island and the beautiful Mediterranean Sea.
Our Chefs specialise in barbecuing different cuts of meats such as fresh filletand rib-eye.
Kenneth, the manager of Bad Bull, likes to say that "our BBQ grilled ribs
are the most popular in the area because they are cooked to perfection and exactly at the preference of any clients".
Bad Bull Barbecue House has made itself a landmark in the square for the exquisite menu offered, such as fresh fish dishes, chicken, pasta and scrumptious salads.
Here you can also taste traditional Maltese cuisine and a great value set menu everything accompained by a superb choice of local and foreign wines ans beers.
"The Bad Bull BBQ House is definitely the perfect place for every occasion, for couples, families or group bookings",

explains Kenneth.
We ensure our friendly staff always provide the best service to make your dining experience with us the very best possible!
IN THIS RESTAURANT YOU CAN USE THE BUGIBBA CARD
AND GET A FREE BRUSCHETTA OR A GARLIC BREAD
WITH ANY MAIN MEALS (EAT IN ONLY)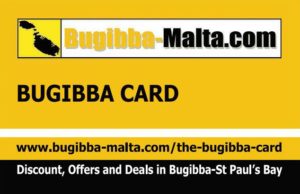 For more information or bookings, please
CONTACT US
Bad Bull BBQ House, Misrah il-Bajja, Bugibba SPB
Tel: 77825675