WELCOME TO MEZZALUNA
BISTRO & PIZZERIA
Can you imagine a Restaurant that can satisfy everyone's palate even with


homemade gluten free pasta and pizza?
Well, it is not a dream! Mezzaluna Restaurant is the perfect choice for all the family including those who are lactose and gluten intolerant.
Nowadays, many people need to avoid certain food and it is not easy to find quality restaurants that can supply a meal, from starters to  desserts, with the guarantee of freshness and care that only homemade cuisine can offer!
That's why Johann, Chef and Manager at Mezzaluna Bistro & Pizzeria, cooking skills are so up to date that he meets the needs of all his customers without sacrificing the taste!
"Our pizza dough as well as the gluten free one is made by myself,
that's why our gluten free pizza is so crispy and flavoured
that you cannot actually feel the difference!"

At Mezzaluna Bistro, tradition and contemporary are mixed together in a perfect atmosphere!
You walk inside and you feel welcomed in a place that evocates all the smells and the cozy ambience of a countryside Granny's house. The kitchen offers traditional Mediterranean dishes, from the well appreciated Maltese Ravioli pasta, to first class fish and meat plates. They also offer a wide range of gluten and lactose free pasta, pizza and second plates.
To accompany your dinner or your Sunday lunch, you can find a well selected choice of local and foreign wines and beers (including gluten-free beer) and conclude your meal with a delicious homemade cake!
Located in the heart of St. Paul's Bay in Mosta Road for the last five years, Mezzaluna has built an excellent reputation with both Maltese and tourists.
"When friends mention Mezzaluna for eating out, everyone tells us that it was an enjoyable evening for all the senses!",
and we are very proud of this, Johann confides.
What makes a great experience at Mezzaluna is also the quality service, all the waiters are truly kind and ready to welcome you!
Mezzaluna can also cater for a wide range of group functions including:
Fenkati (Rabbit Meals)

Pasta Tables

Buffets

Birthday Parties

Bachelor's/Hen's Parties

Staff Parties
And more..
At Mezzaluna Bistro & Pizzeria you can order for Take away, including special dietry requirement options
IN THIS RESTAURANT YOU CAN USE THE BUGIBBA CARD
AND GET 20% OFF A LA CARTE MENU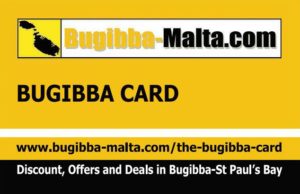 For more information and for booking please
CONTACT US
Tel: 27580112 / 79046872
E-mail: [email protected]
Website: www.mezzalunamalta.com
OPENING HOURS
Monday: 18:00 – 22:30 
Tuesday: Closed 
Wednesday: 18:00 – 22:30 
Thursday: 18:00 – 22:30 
Friday: 18:00 – 22:30 
Saturday: 18:00 – 22:30 
Sunday: 11:30 – 15:00 (Lunch – October-May Only) 
Sunday: 18:00 – 22:30 (Dinner)